Testosterone is the primary sex hormone for men but also important for female sexual hormone function and balance. When a drop in testosterone occurs it can negatively impair sexual performance in both men and women. Maintaining a healthy libido with aging is a concern for men and women and Tongkat Ali (TA) research has shown promising results.
A twelve-week study on 109 men examined the aphrodisiac effects of Tongkat Ali (TA). The men ranged from 30 to 55 years of age, half given 300mg fluid extract TA and remaining participants a placebo. Those men taking TA experienced higher scores in erectile function, libido, seminal fluid analysis, and sperm motility, and semen volume.

 
Similar research was conducted on healthy men between 40 to 65 years of age. Results for those men taking Tongkat Ali (TA) for a 12-week period showed significant improvements in the ability to perform sexual intercourse and maintain an erection. Sexual performance was greatly enhanced according to research findings.
A small pilot study was conducted on physically active male and female seniors aged 52-72 years. The participants supplemented with 400-mg Tongkat Ali (TA) extract daily for 5 weeks. Research results indicated a significant increase in total and free testosterone levels in both male and female volunteers. They also experienced enhanced muscle strength supplementing with TA.
Other Ways Tongkat Ali May Benefit Your Health
Tongkat Ali (TA) has been widely researched for its therapeutic value and ability to help with certain conditions. TA may help increase our testosterone level but is also shown to benefit our health in other areas including: 
Daily supplementation with Tongkat Ali root extract improves stress hormone profile according to research published in the Journal of the International Society of Sports Nutrition.
Mood state parameters may be improved providing an overall feeling of well-being.
TA supplementation may be an effective way to protect our body from chronic stress including general stress, sleep deprivation, stress from exercise training, and stress on the body from dieting.
Shown to provide antibacterial properties.
Antioxidant properties of TA may be useful to prevent or treat inflammatory diseases.
TA is shown as a potential treatment for certain cancers, specifically leukemia.
Should You Supplement With Tongkat Ali?
Tongkat Ali (TA) is considered a dietary supplement with claims to increase testosterone levels and enhance sexual and physical vitality. Tongkat Ali, also referred to as E. longifolia, has become one of the most common herbal products on the market. It has grown in reputation as a sexual performance enhancer causing an increase in consumer purchase.
Some suppliers and marketers of E. longifolia may produce fake products by reducing the concentration of E. longifolia herbs to gain more profits. This manipulation of Tongkat Ali or any supplement is the reason trusting the quality of unregulated supplements is questionable.
As supplement consumers, it would be wise to put in some research to discover reputable supplement companies with many years of trusted sourcing. 
Because Tongkat Ali (TA) is a testosterone booster, it may be contraindicated with other prescribed medications or not recommended if you have been diagnosed with certain medical conditions including heart problems or hypertension.
 Before taking this or any other supplement, it's always a good idea to discuss it with your doctor. 
ALI KING SINGAPORE – All Natural Ingredients
- Made in Singapore
- GMP Certified
- Suitable for Vegetarian
Featured Product: Tongkat Ali 200:1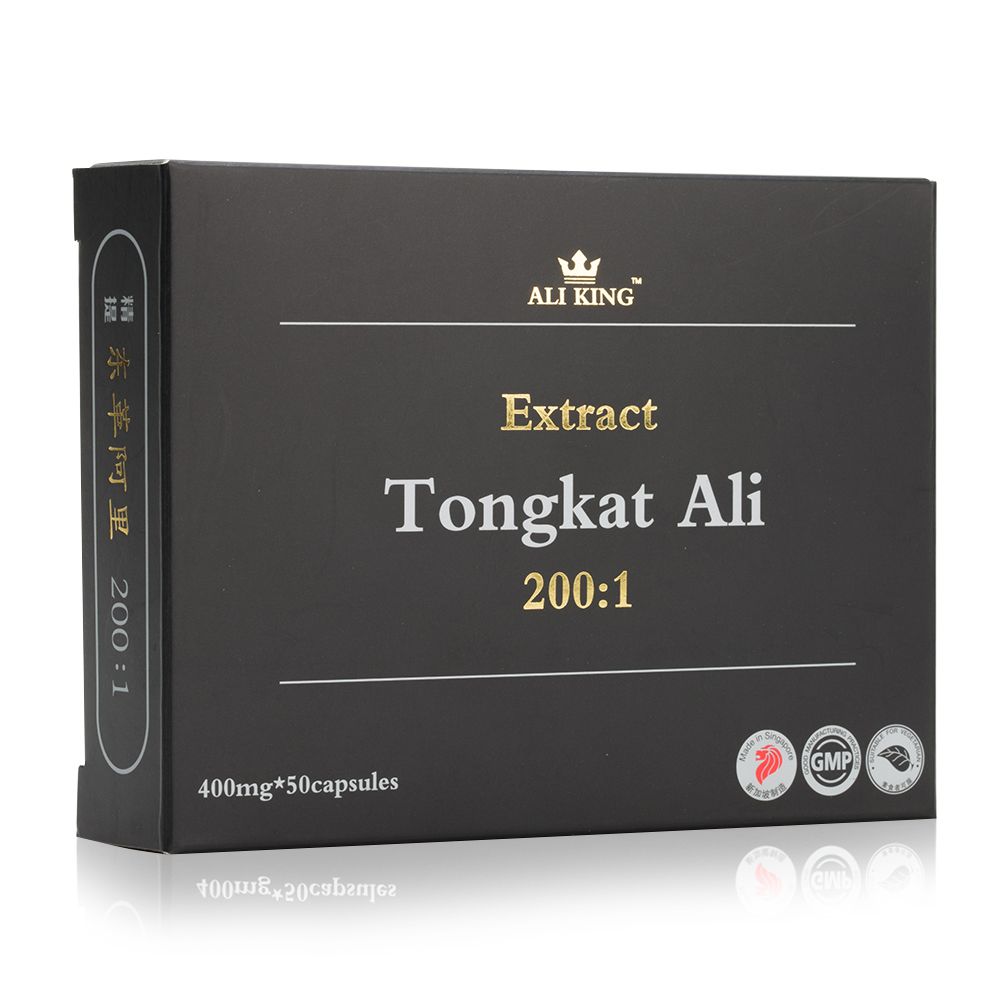 MASCULINE + POWERFUL + CONFIDENT 

My Sex life has never felt so healthy and so good!
GET YOUR ENERGY BACK!


▶
Tongkat Ali root extract in

 200:1 ratio

. The most potent and powerful Tongkat Ali on the market
👨‍❤️‍💋‍👨INCREASES DRIVE: Think you've lost your prowess? Try our male supplements, you'll be blown away by the wonderful results. You'll be like a  hungry tiger always in the mood and looking forward to surprise your partner
🔥 NATURAL TESTOSTERONE BOOSTER : Natural supplement to boost your testosterone level and vitality. Maintains your sex drive that plummets as you age. Improves your energy level, muscle mass, boosts athletic performance and physical strength